Montclair Homes for Sale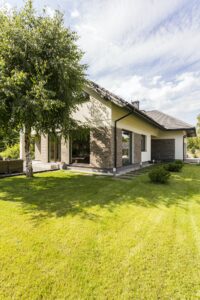 The historic Montclair neighborhood in Denver, Colorado is a beautiful city neighborhood, including a park, with a small-town atmosphere and a population of 5,739. The neighborhood boundaries are Colfax Avenue on the north, 6th Avenue on the south, Holly Street on the west and Quebec Street to the east. Other city parks in this neighborhood include Mayfair Park, Kittredge Park and Denison Park.
Montclair was originally purchased and developed by Montclair Town and Improvement Company in 1885. One of the founders of this company, Matthias Cochrane, moved to the area from Montclair, New Jersey and named the community after that. In 1888, Montclair became an incorporated town. In 1903, Denver incorporated and annexed Montclair.
Home values and household income:
There are currently nine homes for sale in the Montclair neighborhood in Denver, ranging from $325,000 to $2.5 million. The median home price is $679,000, which is an average of $368 per square foot. 71% of people in the Montclair neighborhood own their homes or apartments, and 29% rent their space.
Shopping and Recreation:
The Montclair neighborhood in Denver offers dozens of grocery stores, as well as hundreds of cafes, coffee shops and restaurants in Montclair.
Some special places to note are:
Montclair Park, a neighborhood park with dog walking areas, a tennis court, a horseshoe pit, a playground and grassy areas to play
Kittredge Park, a community park with a playground and nice open space for sports and dog walking
Art Gym, a creative private space environment for artists to make a masterpiece
The Seasoned Chef, a cooking school for home and recreational cooking classes
City Floral Greenhouse, a garden center with seasonal living and landscape options to help decorate your home, inside and out
Food and Drink:
Park Hill Hub, a cafe serving coffee and tea, breakfast and brunch
Cherry Cricket, an American Sports Bar, offering specialty burgers
Bertha's Baja Bistro, an indoor eatery serving prime rib, smoked wings, burgers and drinks
Jimmy's Jersey Street Cafe, a cozy, stylish restaurant serving pastas and other Italian fare
Tessa Delicatessen, a cafe featuring soups, sandwiches, burgers and brisket
Clean Eatz Denver Park Hill, a healthy eatery with build-your-own bowls, burgers, flatbreads, and wraps
Sweet Rice, a strip mall eatery offering Chinese, Thai and Japanese food
Mesob Ethiopian Restaurant, an authentic Ethiopian cuisine offering an extensive menu, including many gluten-free options
Starbucks, a national coffee chain featuring a wide variety of coffee drinks for enjoying in house or to go
Things to do:
Denver Botanic Gardens: a 23-acre public botanical garden located in the nearby Cheesman Park neighborhood,
Denver Zoo: an 80-acre zoo located in City Park of Denver, owned and operated by the city and county of Denver,
Red Rocks Amphitheater: an open-air amphitheater built into a rock structure near Morrison, Colorado, ten miles west of Denver,
Downtown Aquarium Denver: a public aquarium and restaurant located in Denver with 1,000,000 gallons of water featuring fish and other aquatic animals,
Dinosaur Ridge: one of the world's most famous dinosaur fossil localities, located in the Morrison Fossil Area, in Jefferson County
Union Station: a hundred-year-old historic landmark in the heart of downtown Denver with an array of the city's top local restaurants, bars and shops
Schools:
There are five highly-rated public schools in Montclair including Carson, Palmer and Montclair Elementary Schools, Hill campus of Arts and Sciences (Middle School) and George Washington High School. A private school option is St. James Catholic School.
Transportation:
In addition to personal vehicle transportation, Montclair is also accessible by mass transit via several Regional Transportation District Routes and Bike Routes on the City-Wide Bikeway System.
For more information:
To find homes for sale in the Montclair neighborhood, visit My Colorado Move.And for all Denver Real Estate.
Sign up for FREE e-mail updates on current Homes for Sale in Montclair neighborhood located in Denver, Colorado.
If you have any questions, please contact us at any time.
Chuck Gonzalez
Licensed Broker Associate, Realtor
303-507-MOVE (6683)

Note: if no homes are listed below, this means that are none available at this time. Please use the sidebar links to search in different neighborhoods or click the advanced search to create your own custom search.