Hilltop Homes for Sale in Denver
The Hilltop neighborhood in Denver, Colorado is a beautiful, high-end community featuring large lots, stunning trees and landscape.
The borders for the Hilltop neighborhood include Colorado Boulevard on the west, 6th Avenue on the north and Alameda Avenue on the South. The eastern border is irregular, with multiple borders, including Quebec Street on the north end and Monaco Parkway on the south end.
Hilltop Neighborhood Real Estate
With a population of 9,832 and a median home value of $876,398, sixty percent of Hilltop residents own their homes. The median rent is $1981, which is nearly twice the national average.
Currently, there are only two listings in Hilltop. The first home offered is a beautifully modern three-bedroom, five-bathroom home built in 2018, with 2,817 square feet of living space, for a sales price of $1,200,000.
The second home listed is a six-bedroom, six-bathroom home near Robinson Park, with 6,642 square feet of living space offered at $3,350,000.
There are many families and young professionals in Hilltop, and the residents tend to be liberal. There are many bars, restaurants, coffee shops and other places to shop nearby making this a wonderful place to live and work.
Highly Ranked
Hilltop neighborhood in Denver is ranked #20 out of 75 for best neighborhoods to raise a family
It is also ranked #28 out of 75 for best neighborhoods to live in Denver, according to Niche.com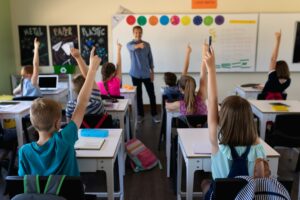 Excellent School Choices
Public Schools are excellent and one of the things families are drawn to in the Hilltop neighborhood in Denver. High School students in Hilltop attend the highly rated Cherry Creek High School. It is voted as the #1 high school in Colorado and received an A+ score for academics, diversity, clubs and activities.
Middle School students attend Byers Middle School (ranked #33 in Colorado), West Middle School (ranked #19) or Cherry Creek Charter Academy (ranked #9, serving kids K-8). Elementary students also attend Cherry Creek Charter Academy (ranked #9 for best elementary schools in Colorado), and Challenge School (ranked #4 for best elementary schools in Colorado, serving kids Kindergarten through 8th grade).
Hilltop Schools
35% of residents in Hilltop hold a Master's Degree or higher. 41% have a Bachelor's degree and another 14% have an Associate's degree or some level of college education. These numbers are considerably higher than national averages, indicating that Hilltop residents are highly educated and see the value of education in their community.
Things To Do
Cranmer Park: This Hilltop neighborhood city park is located off of Colorado Boulevard, between East 1st and East 3rd Avenue. It is known for its large sundial, placed in 1941, which is also used as a climbing piece for children, as well as its beautiful view of the Front Range Mountains from a flagstone promenade
Denver Botanic Gardens: a 23-acre public botanical garden located in the nearby Cheesman Park neighborhood
Denver Zoo: an 80-acre zoo located in City Park of Denver, owned and operated by the city and county of Denver
Red Rocks Amphitheater: an open-air amphitheater built into a rock structure near Morrison, Colorado, ten miles west of Denver
Downtown Aquarium Denver: a public aquarium and restaurant located in Denver with 1,000,000 gallons of water featuring fish and other aquatic animals
Dinosaur Ridge: one of the world's most famous dinosaur fossil localities, located in the Morrison Fossil Area, in Jefferson County
Union Station: a hundred-year-old historic landmark in the heart of downtown Denver with an array of the city's top local restaurants, bars and shops
Transportation:
In addition to personal vehicle transportation, Hilltop is also accessible by mass transit via several Regional Transportation District Routes and Bike Routes on the City-Wide Bikeway System.
For more information about this desirable community or homes for sale in the Hilltop neighborhood in Denver, contact Chuck Gonzalez here.
Sign up for FREE e-mail updates on current Homes for Sale in the Hilltop neighborhood located in the Denver real estate area of Colorado.
If you have any questions, please contact us at any time.
Chuck Gonzalez
Licensed Broker Associate, Realtor
303-507-MOVE (6683)

Note: if no homes are listed below, this means that are none available at this time. Please use the sidebar links to search in different neighborhoods or click the advanced search to create your own custom search.